On the 31st March 2012, the boys had scheduled a meet and greet with their fans at Melbourne's Luna Park theme park. However, the police had to shut down the theme park due to the amount of people that attended.
The Meeting
Edit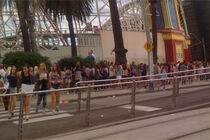 Luna Park management had promoted Saturday's event as a chance for fans to meet and greet the boys, who would be signing autographs and posing for photos between 1pm and 4pm. But police cancelled the event just after 2pm. The attendance was unexpected: about 6000 people turned up to see the Janoskians, with another 2000 to 3000 at the park as normal visitors.
A police spokeswoman explained that "police were concerned for the safety of people attending. As a result of the swelling crowd it was decided the event was to be cancelled". She added that the police, the event organisers and venue management worked together to disperse the crowd.